Smart Flash Dryer Features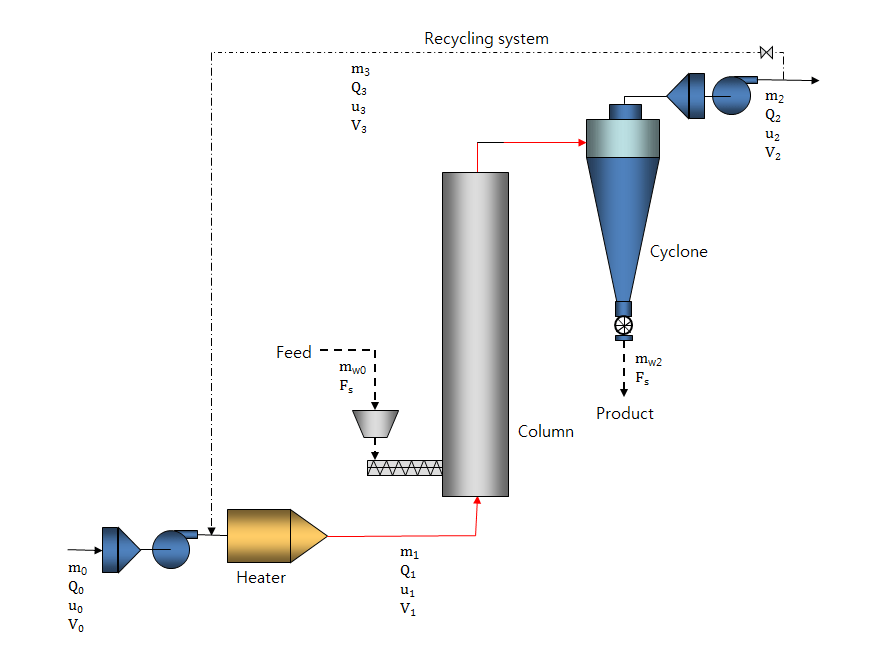 The high efficiency flash dryer is a drying equipmentthat supplies heats passed through the heater within the cylinder (pipe). The materials to be dried are dried as they move. The materials to be dried are stored within the cyclone, and the hot air is discharged to the outside. The features of the dryer are as follows.
Fast drying time
Drying is carried out with hot air flowing in the cylinder and the drying is done within short time (only about 3~5 seconds).
It is easy to control the flow speed of particles and the temperature, which allows users to select the optimal drying method depending on the materials to be dried.
High drying efficiency
The streamlined shape resembles the orbit shape design rather than the conventional circulating airflow design.
(a) 종래

(b) 제안
Therefore, the retention time of the materials to be dried is long, which means that drying is possible with higher energy efficiency.
Easy Operation Control
This flash drying device has ventilating pipe that converts the upward airflow into swirling airflow. This allows for reduction of maintenance cost. Furthermore, users can increase the drying efficiency by selectively controlling the number of revolutions of the drying object depending on the type of material to be dried, its moisture content, or particle size.
(a) 고정

(b) right turn

(c) left turn
Test Report
Sugar Drying

It is the dry result after adding water to the sugar, The temperature of the product is not high and the occurrence of cracking is small.
NO.
TEST CONDITION
TEST RESULT
In Put(kg/hr)
Add Temp. (℃)
Initial humity(%w.b)
product humity(%w.b)
product temp. (℃)
1
100
65
1.6
0.22
48
2
100
70
1.6
0.2
52
3
100
75
1.6
0.13
58
Health Salt
NO.
TEST CONDITION
TEST RESULT
In Put(kg/hr)
Add Temp. (℃)
Initial humity(%w.b)
product humity(%w.b)
product temp. (℃)
1
100
90
8
1.34
54
2
100
100
8
1.0
65
3
100
110
8
0.6
70
Coffee Waste
NO.
TEST CONDITION
TEST RESULT
In Put(kg/hr)
Add Temp. (℃)
Initial humity(%w.b)
product humity(%w.b)
product temp. (℃)
1
20
170
58.79
53.64
65
2
17.9
170
53.64
46.7
66
3
15.8
170
46.7
38.2
66
NO.
TEST CONDITION
TEST RESULT
In Put(kg/hr)
Add Temp. (℃)
Initial humity(%w.b)
product humity(%w.b)
product temp. (℃)
1
20
200
58.56
51.38
68
2
17.9
200
51.38
43.87
69
3
15.8
200
43.87
33.22
69
coffee waste was re-injected after discharge