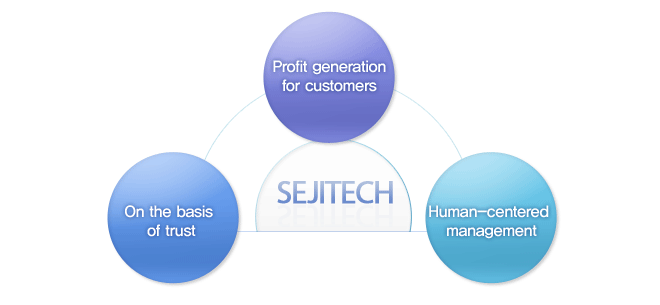 Profit generation for customers
We will do our best to contribute to the benefit of customers by providing excellent equipments and qualified service that customers want.
Human-centered management
As human is the basis of all values, we will manage centering in human and take the precious assets as the driving force to grow society beautifully.
On the basis of trust
Clear management and fair control would continue towards service for customers, and we will progress more on the basis of the trust.

With constant challenge and creativity, we do our best to improve quality and secure technology.
Zero-gravity mixer, double screw mixer, ribbon mixer, high speed mixer, dryer and Powder industry plant
We pursue profit and growth at the same time, and customer and Seji Tech develop together with Win-win strategy
Up-grade for elements, functions, usage and performance of study is the continuity of development and improvement.


1. Active response against change: according to various purpose and broad using rate, we invest on the development of high added value products constantly.
2. Securing competitiveness:
ич Technological ability:
As the manufacturing technology of a zero-gravity mixer is a patent (design) that is registered in Korean Industrial Property, there are no rivalry companies and similar products, and with constant R & D investment, the quality is improved and progressed.
иш Capital power:
with management of no loan, there is no expense in financial cost, and we return the surplus to customers by minimizing production cost and indirect cost.
ищ After-sales service:
through and prompt A/S system is a promise with customers and practice.





The future of 21st century Seji Tech would rise high in powder industry plant area with profession and technological competitiveness on the basis of management ideology and vision.

To be reborn as the small but strong company, and attributing to society, we promise like this.

We work hard and contribute to society with honest management.
We keeps the principle and reward with technology for the development of customers in appreciating mind
We cooperate at any time, and encourage each other in trust.

| | |
| --- | --- |
| | |
| | |
| The Front view of company | The Front view of company |


The Front view of company

Seji family

Counseling about raw materials


mixer test
mixer design

mixer production
mixer production
Shaft formation test

shipment of mixer
mixer for experiment (F-20)
mixer for ceramic (F-200)
mixer for food (F-750)
mixer for chemical (F-750)
Mixer for food(F-1000)
mixer for food (F-1500)
mixer for feed(F-2000)
Dry Mortar (F-2500)
A/S (F-1000)
mixer for food(F-1500)
mixer for food (F-1000)
P.M.S(grinder)

formation of mixing line